About El Mundo and owner Verio
Owner, host and bartender Verio was born in Colombia and already moved to the Netherlands in his third year. He has been living there until about fourteen years ago, when he packed two bags and came to Bonaire to work as a cook at Bongo's, a previous beach bar on the Eden Beach resort. Verio considered moving to a Caribbean island and creating a living here a great challenge but definitely succeeded at it. Verio is now living happily with his wife and two children, owning his home and a well running fun business.

Years ago, when Bongo's was closed, Verio had to find a new kitchen to work in so he grazed through the telephone book and started searching for his next dream job until the idea came up to actually start his own place. For a while there was the chance to run the bar/restaurant that is now know as Eddy's, but there were too many complications to go for it. To earn his living, Verio worked for a year at City Cafe, but this popular place didn't give him the feeling that he was looking for, it was too big, too hectic. Verio wanted a place that would be a little more intimate. About seven years ago, he got the opportunity to take his current location and so he did.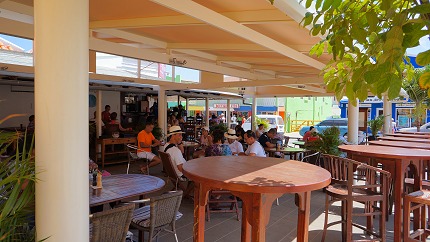 The World
In the Netherlands, Verio had worked at Grand Cafe "Le Monde", French for "The World". This is where the current name comes from. El Mundo used to be an Indonesian restaurant so Verio decided to keep some of the Indonesian dishes on the menu and added local food. Combining these with a variety of international dishes and he knew, the name would be The World again, but this time in Spanish: "El Mundo" was born!
Come see The World, everybody is welcome!